Rent growth in Atlanta continues to slow, but remains well above the historical average. Of the six major submarkets that have more than 20 million square feet of inventory, all but one are still outpacing metro rent gains. And considering job growth in Atlanta is expected to continue to outpace the national average, and spec development is still relatively muted compared to history, rent growth in the metro is expected to outperform historical averages for the foreseeable future.
One of the biggest winners of late has been Downtown, thanks in part to an actual decline in net inventory as some high-vacancy projects have been converted to other uses. Further, there is rising momentum being generated from the redevelopment of Underground Atlanta and the purchasing binge that Newport US RE has undertaken in anticipation of their redevelopment of about three dozen downtown buildings. It also doesn't hurt that Downtown has been touted as the most likely fit for Amazon if Atlanta win's the bid for their HQ2. With rents in neighboring Midtown/Pershing Point some of the most expensive in the metro, Downtown offers a value-play for proximity to Midtown's amenities.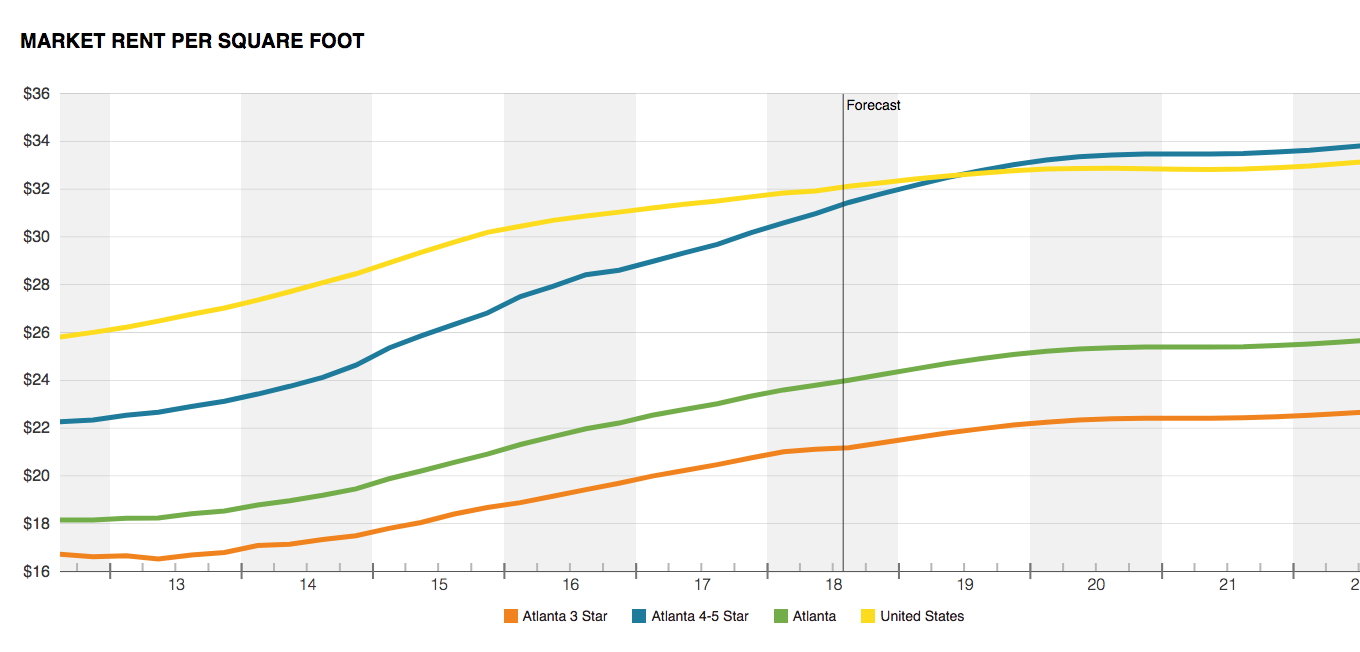 Cumberland/Galleria is now experiencing some of the weakest gains among the largest submarkets. Vacancy and availability are the highest here versus other submarkets, created in part by large tenants vacating old space for their new BTS locations like HD Supply and Comcast. In other cases, consolidation to other submarkets has occurred, like Coca-Cola's departure from Windy Ridge. Whatever the reason, the steady rise in vacancy since 2016 has softened landlords ability to push rent there.
With nearly 90% of the ground-up office builds this cycle constituting 4 & 5 star projects, and another 90% of the under construction pipeline, supply continues to accrue to the high-end. Supply has had the odd effect of increasing vacancy at this level, yet rents continue to climb in the face of this increasing vacancy. Rents have decelerated across the board since peaking in 2015, however high-quality projects have actually seen a slight uptick this year compared to lower rated assets.